Fitness testing: how do you measure your progress?
Posted by Cags R under General on 15 October 2012 at 11:00 PM
For the majority of us, we exercise with certain goals in mind. Whether it's to lose weight, to gain fitness, to become stronger, faster or more flexible, but how many of us take the time to monitor and measure our progress?
Here are some simple ways to keep track of how effective your training is in 4 key fitness areas:
Strength
Top personal trainer, Christian Finn says to keep track of your progress in strength training, you should keep it simple; keep a record of your 1 rep max in the bench press, squat, deadlift and standing press. 
In the early stages of training, you will see much faster improvements than once you are lifting bodyweight and above; do not become disheartened if the rate of improvement decreases but you should take note if you feel you are reaching a plateau.
Stamina
In terms of cardiovascular endurance, top sports teams still lay a lot of stock in the bleep test. Also known as the 20m shuttle run, the bleep test is a simple test to perform; using an audio track (available for download) which sets your running pace between the 2 markers set 20m apart.
The time between 'bleeps' gets faster as time goes on and your work rate intensity must increase to keep up with it.
Flexibility
This is often one of the most neglected and overlooked aspects of fitness which, if given the appropriate level of recognition, could help avoid injury and improve performance in other areas of fitness. There are plenty of yoga and stretching Challenges on Tribesports but it is definitely not one of the easiest things to tangibly measure.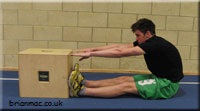 Another call on tradition fitness testing is required here; if you are trying to improve your flexibility than the sit and reach test (with warmed up muscles, very important!) is actually a very quick and easy way to test your lower back, hip and hamstring flexibility. This is really good for runners and cyclists who often suffer from shortened hamstrings due to the repeated contractions of running and cycling.
Using a box, a ruler and an assistant, test how far you can reach forward along the box.
Speed
Whether you're a marathon runner or a sprinter, time matters! This is especially true if you have set yourself targets for big races. You should make sure your training runs are realistically reflecting your target time; if you're not maintaining the right pace to achieve your goal then you need to readjust how you are training - for longer distances especially it is very worth while setting yourself higher intensity shorter distances which will challenge you rather than running at your race pace over the shorter distance.
By regularly measuring your progress, you will also find that you can identify weaknesses or set backs before they take great affect on your performance, it will also make you more conscious of how effective your training is. How do you measure your progress?