Stop dieting and lose weight
Posted by Cags R under Nutrition on 6 January 2013 at 12:00 AM
If you feel as though you've tried every diet and have been unsuccessful in your weight loss goals, why not take a fresh look at things this year?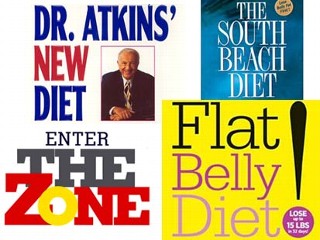 The word 'diet' has taken on such negative connotations that as soon as you label yourself as 'on a diet' it is easy to imagine all the food you love as off-limits. What we seem to have forgotten as a society is that we are all on a diet - we may not have a plan for it but we consume food and take on calories, some people count these calories and others like to live in peaceful ignorance of what they are putting in their mouths. Either way, what we eat is our diet - it's that simple!
This is why many of the 'lose X amount of weight in X days' diet plans are not effective ways to lose weight and stay in shape; if your diet plan has a set time to it then once you've finished the diet you are likely to slip back into old eating habits. This is what people frequently refer to as yo-yo dieting which means you are in a constant battle between 'on-diet' you and 'off-diet' you!
So how can you avoid the chronic heartache of feeling as though you are 'on a diet'?
Identify what your current diet is doing - are you currently sustaining a constant weight but carrying a few extra pounds? Or are you gaining weight and eating well over your daily allowances of calories and sugar? Once you know what your current diet is doing, you can alter your calorie intake in a manageable way - if your body is used to 3000 calories a day and you suddenly drop to 1500 calories then you will find this unsustainable in the long run. Tapering down to your recommended daily allowance and increasing activities levels means you won't go looking for quick hits of calories and sugar.


Take ownership of the food you eat - this means it's time to get in the kitchen! If you don't enjoy cooking then maybe it's time to change what you cook - pressing start on a microwave or cooking the same meals every week would drive anyone to boredom! Use cooking as a creative outlet during your day; it can be stress relieving as well as letting you know exactly what you are eating.


If you need to buy a book to tell you what to eat then you'll probably feel like you're on a diet. Instead, look at what you are currently eating and establish where your high calorie intakes come from and whether they are essential to your nutrition. Identify where you may find empty calories - for example are you drinking empty calories? and cut them out first.


Don't cut out your favourite foods - find a way to make them healthy. This is another one that will send you into the kitchen, cooking from scratch can turn a greasy burger into a gourmet delight! This also means if you're cooking for a family then they will not feel as though they are on your diet with you. 


Portion control - it may be an old trick, but changing down to a smaller plate will make smaller portions look big. Always wait for at least 15 minutes before going for second portions - if you're not hungry then don't eat the second portion. When you eat, try to always include a salad or large vegetable option on the table so that if you want second portions you can choose a lighter option.


Include more fibre into your diet - this will mean you have a cleaner intestine and bowel; in most processed foods, the fibre content will be negligible compared to if you cook it from scratch or purchase wholemeal/high fibre products. This basically means you're going to be carrying extra waste around (sounds pretty gross I know!). Go to the Smoothie Recipe Tribe for some high fibre ideas.
You can also make small lifestyle changes which will help you see results from your improved diet and nutrition. Rather than paying to count points, cutting out entire food groups or having every meal planned for you, we are advocating what can be considered the original diet plan: cook fresh, exercise more!
Find some amazing recipe ideas in the Clean Eating or Cooking and Recipe Swaps Tribes.