Tennis Challenges to get you to Wimbledon!
Posted by Cags R under Tennis on 23 June 2012 at 11:00 PM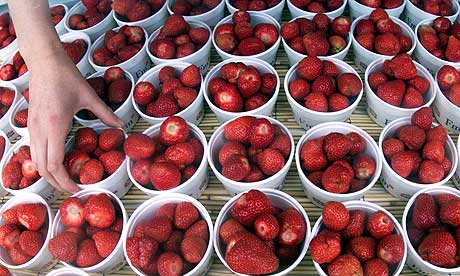 It has arrived! In this year of sporting awesomeness it is the third installment of the tennis grand-slams, Wimbledon is upon us once again and along with some fresh strawberries with cream and a healthy pitcher (or two) of Pimms it's time to settle in to watch the world's top players take centre stage.
Hold up...this is Tribesports, no time to watch the pros when there are Challenges to complete! So here they are, 5 Challenges that will take you from comfy couch to centre court:
20 stroke tramline rally accuracy is the name of the game with this Challenge, you and your practice partner will have to work together to keep the ball within the 4.5ft tramline. 
No double faults it was heart breaking to watch Novak Djokovic lose the French Open this year to Nadal on a double fault, don't let that happen to you! 
Social tennis - 5 match Challenge ok so we're not on centre court yet but let's see if we can beat our friends! This Challenge is to win 5 matches in a row; set up regular fixtures so that tennis becomes part of your routine.
Serving practice - corner serves stolen from the film Wimbledon (heart-warming sports rom-com), this Challenge is to improve the accuracy of your serves into the corner of the service box. It's not easy but you're given 2 chances for each corner, good luck!
Three court Challenge Nadal has mastered grass, clay and hard courts, can you? This Challenge is to get out of your comfort zone and play on different surfaces, Wimbledon may be full booked right now but see if there's a grass court nearby where you can take on the challenge!
There are also loads of great guides which are outlined in this article or can be found in the Tribesports Tennis Academy Tribe, check it out!