The Grand National history and how to back a winner!
Posted by Ian W on 10 April 2012 at 8:58 AM
"Jockeys… JOCKEYS, sort yourselves out. You two, you're facing the wrong way. You over there, take a turn and get back in the main field. I want a straight line. Walk in and don't charge the starting tape, we don't want any false starts."
You'd be unlikely to hear a starter giving instructions like this at the start of a marathon, triathlon or sportive! But this isn't any ordinary race – it's the Grand National! Each jockey's charge weighs something approaching 450kg and has a mind of its own. Anything can happen, and it quite often does!
As the flag goes down, the backsides of 40 horses and jockeys disappear away for two circuits and four and a half miles of the famous Aintree course, over the Melling Road, heading to the first of 30 of the most challenging fences in world racing. It has thrills, it has spills and it has captured a place in the nation's, no the WORLD'S, hearts!
The race is steeped in history and has been run since 1839, when it was won by a horse aptly called Lottery, at odds of 5/1. Fences have been made famous by jockeys and horses from the past. 'Becher's Brook' is named after Captain Martin Becher who was dumped by his ride into the brook in the race's first running at Aintree; 
'Foinavon' follows, made [in]famous by a pile-up which Foinavon and jockey John Buckingham managed to avoid. They went onto win the 1967 renewal at odds of 100/1! 
The most daunting fence is arguably 'The Chair' (Becher's Brook has been tamed over the years). This beast of a fence is only jumped once in the race and measures a staggering 5ft 2in high with the added spice of a 6ft ditch in front!
There are plenty of famous stories surrounding the Grand National. One of the most inspiring was the magical, even miraculous combination of Aldaniti and Bob Champion. Aldaniti recovered from a career threatening injury and his partner in victory, Bob, beat cancer to go on and win the 1981 National in a flurry of national emotion, tears and flutters!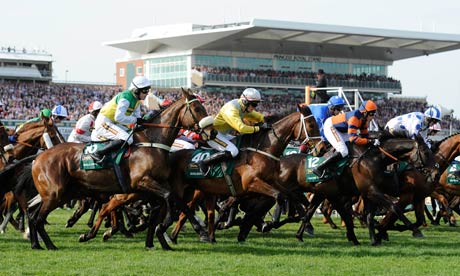 In 1956 HRH the Queen Mum entered a horse called Devon Loch who provided one of the most bizarre finishes to the race. Steered by Dick Francis (who went on to become a pretty good author – you may have heard of him?!) the duo had cleared the last fence and were forty yards from the finishing line, on course to break the race record. Then, with no logical explanation as to why, the horse leapt into the air and landed doing the equine equivalent of the splits! Despite speculation that continues to this day, no one knows why. If only they could talk eh?!
And of course, we couldn't talk about the most famous of races without mentioning its most famous of winners – RED RUM!!! Trained by Ginger McCain he won the National three times in 1973, '74 & '77. Add to this his two second places in '75 & '76 and you have the most famous horse in living memory. He became a national institution and went on to carry out many public duties, including opening a supermarket – no joke! After he died from old age in 1995 his body was buried near to the winning post at Aintree. A true, true legend.
So, back to the present day and what about picking a winner from this year's race? Well, when making your selection, have a think about the following facts and pointers:
Age: Ideally your pick should be aged 8-12 years. (It's 72 years since a horse younger than 8 won the National, 87 since it was a horse older than 12)
Weight: This is the weight the horse carries, including the jockey. Ideally no less than 10st-4lbs and no heavier than 11st-5lbs. (A horse is given a 'handicap' which indicates their previous experience and success. It is the weight a horse will carry in lbs. So a handicap score of 144 is 10st-4lbs. Anything less than 144 will generally indicate that the horse isn't good enough to win the National. Anything more than 159 (11st 5lbs) is just pretty darn heavy!)
Experience: This is the toughest and most grueling horse race and experience counts! Look for horses that have run at least ten times over jumps during their career, AND have run at least once over 3 miles, ideally with a win.
Boys v Girls! Only 8 mares have won the Grand National, ever. BUT, you shouldn't necessarily let this put you off. There are generally far fewer mares in this race than geldings so statistically this has limited value!
So how can you get involved? Well how about the Create an Exercise with the Runner's Names Challenge, go in on an Office Sweepstake for the Grand National or simply Enjoy the John Smiths Grand National - remember to let us know how you get on!