The importance of a warm up and cool down in sport
Posted by Neil B under Running, Cycling, Swimming, Football (Soccer), Rugby Union on 20 February 2013 at 12:00 AM
The role of the warm up and cool down in physical activity is an often over-looked aspect of performance sport. The influence both can have over maximising athlete performance mean that the warm up and cool down are a critical part of any athletes' training and preparation schedule. 
As the image says, if you fail to prepare, then prepare to fail. There is no excuse for not taking part in an effective warm up before exercise and cool down after exercise. The benefits of an effective warm up are proven by scientific research and should be incorporated into all exercise, whether for team sport or individual exercise. 
Incorporating aerobic exercise into your warm up routine is crucial in ensuring you are adequately prepared for performance. Aerobic activity in your warm up is crucial for a number of reasons. It warms up your core muscle and body temperatures. This allows your muscles to contract more explosively and powerfully, while also improving the efficiency of oxygenated blood transfer around the body. It also improves your flexibility, kicks off some key hormonal reactions within your body and puts you in the correct mental mind frame for the activity ahead.
Check out this more detailed guide into the benefits of an aerobic warm up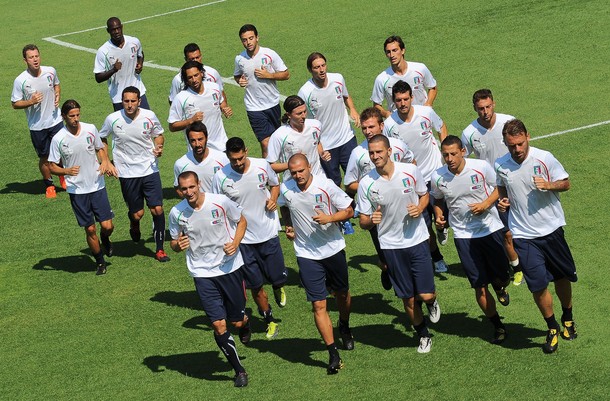 The aerobic aspect of your warm up should incorporate similar movements to those which you are about to perform at full intensity. It should mimic the movements that will be required of you, but at a lower intensity. For exercise requiring running, such as endurance running, football, hockey etc., a light jog is a good place to start. For more specific exercises such as weight lifting, an effective warm up can be to replicate the weightlifting actions you will be using, but with significantly lighter weights, or none at all. The intention is to start working your muscles and warm them up, not to actually train them. That comes once you are successfully warmed up. The main focus should be on ensuring the major muscle groups that you will be using are sufficiently warmed up.
While the aerobic jog/run/cycle that should be undertaken at the start of you warm up begins to
replicate the movements your muscles will make during exercise, once the muscles have been sufficiently heated up, more sport specific activities should be incorporated. Recently, the use of dynamic stretches in the warm up have been advocated strongly. These allow you to mimic movements that you will be undertaking in performance, maintain your body's increased temperature and continue your mental preparation. Many people have argued that dynamic stretches could replace static stretches all together in the warm up. However, static stretches still have their merits in the warm up, and as such should be performed as well as dynamic stretches, so as to give you as complete a warm up as possible.
Here is our guide to why dynamic stretches are such a good addition to your warm up routine
Once you've got a full understanding of the benefits of dynamic stretches, take a look at this guide on what dynamic stretches to incorporate into your warm up.
While most people are aware of the need for a warm up, even if they don't perform it effectively, far fewer people understand the importance of an effective cool down routine after exercise. It is all too common for people to think the full time whistle means the end of their work out. This is a far from effective approach to exercise. Not only will not cooling down limit the benefits of the workout you have just done, it will also lead to Delay Onset Muscle Fatigue (DOMS), which will result in your muscles aching days after your exercise. This will be uncomfortable and will limit how soon you can train again afterwards. An effective cool down can also improve your flexibility long term as well as helping with muscle growth by replacing important nutrients for growth.
Here is a guide explaining what you should do for an effective cool down
It is crucial that the importance of an effective warm up and cool down is not underestimated. In order to maximise your performance and speed up your recovery, both are vitally important. If you don't already, then make sure you begin including a warm up and cool down as part of your regular exercise. They are just as important before a training run, as they are before a big race or important match. Make warming up and cooling down a habit, not a chore. 
How do you warm up and cool down? Do you prefer static or dynamic stretches? Do you have any exercises you swear by as part of a warm up?
Share your thoughts on warming up and cooling down below.