The line between fitspo and fat shaming?
Posted by Cags R under General on 22 October 2013 at 11:00 PM
This week, there's been a lot of controversy around an image posted by Maria Kang - mother of 3 and founder of a non-profit Fitness Without Borders - which has raised the question: where is the line between fitspo and fat shaming?
First off, we should make it clear that this article is not an attack on Maria Kang or her right to post pictures of herself on her own Facebook fan page - she's had a pretty rubbish week, so let's not kick her while she's down!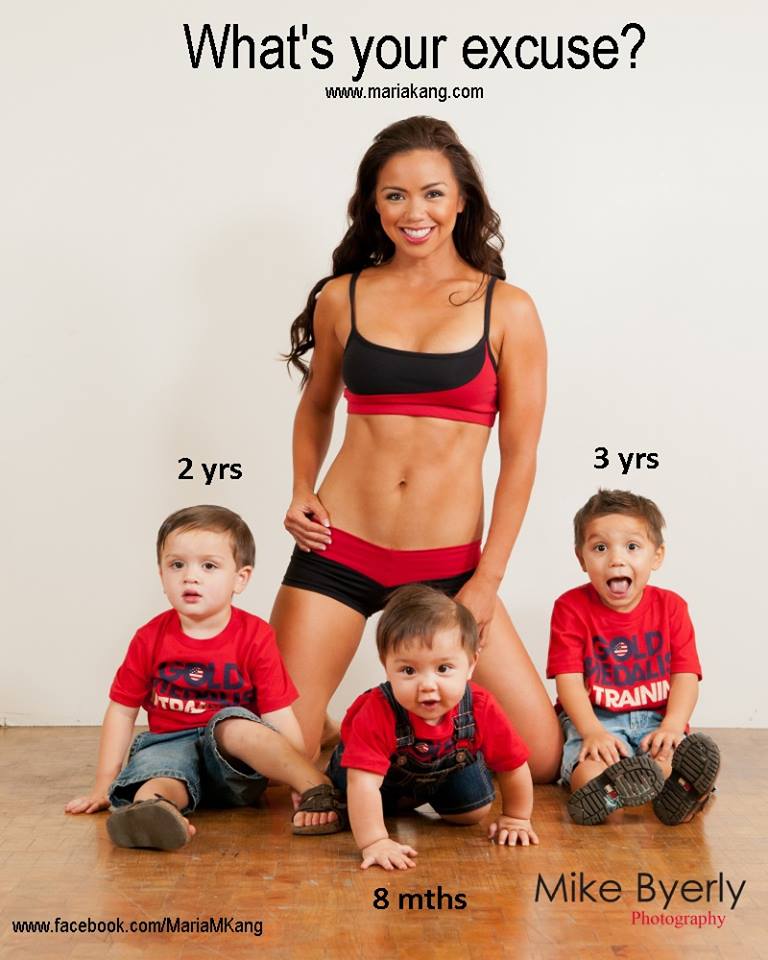 The image (right) was first posted in September 2012 and shows off Maria's pretty epic fit-not-skinny body alongside her 3 sons aged between 8 months and 3 years old. 
The issue? The caption of the the photo "What's your excuse?" has caused uproar for 'fat shaming' other mothers and overweight women.
What is fat shaming?
"Like any prejudice, fat shaming manifests in both explicit or very obvious and implicit or more covert ways.  Identifying the explicit examples of fat shaming that are all too common in our society is easy.   For example, fat people are rarely shown in the media, and when they are it is often in a negative light.  Fat characters on TV or in movies often are the jokesters or the bullies. [...]
In many ways fat shaming is one of the last socially acceptable forms of discrimination.  For some reason we generally as a society think it permissible for fat people to be the target of jokes, judgement, and "health" interventions.  It is not OK." Jenna Brady - dietician and PhD student.
The interesting point about the Maria Kang uproar is that her image doesn't address being fat - it addresses being fit. As the Jenna Brady quote states "fat people are rarely shown in the media, and when they are it is often in a negative light" - how many images showing over weight and obese people in a negative light get passed around the internet on a daily basis* that don't cause an uproar - and yet a physically healthy mother is slated for sharing an image on the basis of it being online bullying? How does this image differ from the thousands of images which portray physically fit women which surround us in the modern media?
*It wouldn't take much to find images to support this point but that's not the purpose of this article.
What is fitspo?
Short for "fitspiration", fitspo is popular on sites like Pinterest and Tumblr (and let's be honest, we enjoy the odd fitspo pic on Tribesports too!) which promotes fit bodies for people to aspire to.
In her Frequently Asked Comments section, Maria Kang specifically states that:
"For those of you who have legitimate excuse then that's your excuse! I'm not saying there isn't one. I'm saying that for the majority of people out there who use multiple kids (or just one), a job, lack of time, lack of support - as an excuse, then maybe you can take my story and my image and use that as a source of inspiration"
It seems clear that the intentions of the original post was to work as a piece of fitspo (and judging by the reaction the image has had, this is now possibly the most talked about piece of fitspo out there!).
So, when does inspiration turn into fat shaming? 
Comments on Maria Kang's photo and subsequent blog articles about the image have been mixed - ranging from "you made me cry" to "Because of your picture, Now I'm taking little steps to becoming a healthier person!". Clearly one person's fitspo is another person's fat shaming.
There are plenty of Fitspo images shared in Tribes and Challenges across Tribesports, and within the community there are thousands of active mothers (and fathers for that matter!) who make time for exercise in their routines - fitness doesn't need to come in the form of an expensive gym membership or dedicating half your time to training. The majority of our awesome users here on Tribesports live totally hectic lives with jobs, families and other commitments but you make the active choice to include exercise in your day.
"It's never a case of TRYING to find time to workout... You either MAKE time or you don't."
- Quote from former User of the Week Malachy K. 
But what do you think? Do you find images like this inspire you to train or do they demotivate you?
Jane H, Dancing Ninja Stacey B and 15 othersJane H, Dancing Ninja Stacey B, Karin S, Alyssa E, Alex D, Adrian K, Jonathan H, Tony G, Ivan R, Phil T, Maria B, Vylisa A, Rick P, Malachy K, Jeconiah M, Sarah V and Joanne H encouraged this.